Artistic Advisory Committee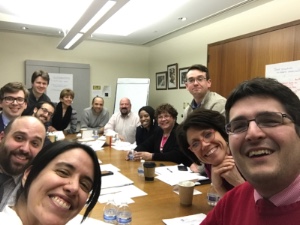 The purpose of this committee is to provide guidance on the artistic vision of the Detroit Children's Choir. All choral music educators and associates are welcome to join this committee. Meetings take place every March and September.
For more information, please contact Eric Taylor, Artistic Director, at etaylor@detroitchildrenschoir.org.
Committee Members
Eric Taylor (Chair)
Artistic Director
Detroit Children's Choir
Paola M. Smith (Co-Chair)
Executive Program and Operations Manager
Detroit Children's Choir
Jalena Brooks
Assistant Director
Detroit Children's Choir
Eleonore Ellero
Music Director
Regina High School (Warren)
Benjamin Findlan
Graduate Assistant Conductor
Wayne State University
Maximilian Fuhrig
Special Projects Manager
Chamber Music Society of Detroit
Tracy Hoffman
Vocal Music Educator
Allen Park Public Schools
Noah Horn
Director of the Choral Program
Wayne State University (Detroit)
Maritsa Madias-Kalasz
Vocal Music Educator (Retired)
Dearborn Public Schools
Nelson Rodriguez
General Manager of Training Ensembles
Detroit Symphony Orchestra
Caen Thomason-Redus
Director of Community Learning
Detroit Symphony Orchestra
April Tini
Director of Choirs
Orchard Lake Middle School (West Bloomfield School District)
Justin Umbarger
Director of Bands and Choirs
Northville Public Schools