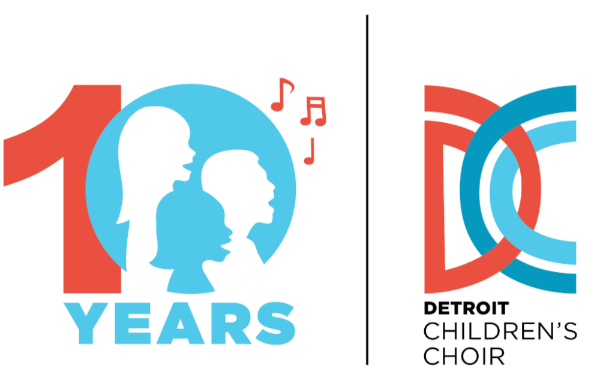 Mission
Our mission is to use the power of choral music education as a cultural platform to unite children of diverse backgrounds.  We aim to provide experiences through choral music education that will enrich the lives of Metro Detroit's youth and communities, ultimately shaping confident, focused, and expressive leaders.
History
What began as a single, in-school program in 2006 has transformed into an organization that now boasts ten different choirs in schools and neighborhoods across Metro Detroit, as well as three ensembles meeting on Saturdays, all in partnership with the Detroit Symphony Orchestra!  Today, the Detroit Children's Choir is the only community-wide, inclusive choral music education program in Metro Detroit that serves children in grades 3-12. Last season's membership exceeded 300 youth participants and consisted of children not just from the city of Detroit, but including surrounding areas such as Macomb, Oakland, and Wayne counties.
DCC's aim is to reach as many young people as possible in order to develop leaders who will bring about positive community change, now and in the future, through the unifying power of choral music education.
The neighborhood choir programs currently are held in the metro Detroit area. DCC welcomes all children into these choirs through weekly after-school ensemble experiences in community centers.  These rehearsals include a robust curriculum with sequential music literacy, sight reading skills, vocal technique training, and performance opportunities. Each choir adapts to the community's needs and serves the neighborhood's residents through free performances.
The in-school programs bring DCC directly into the students' educational environment. In partnership with Detroit Public Schools and other regional systems, these ensembles provide a solution for schools that desire to fit choral music education into their curriculum.  These rehearsals include the same robust curriculum as neighborhood choirs, with sequential music literacy, sight reading skills, vocal technique training, and performance opportunities.
Since its inception, DCC has introduced many thousands of children to the joys and rigors of choral music, produced annual gala concerts with more than 1,400 audience members.  DCC has performed with several touring choirs and now collaborates artistically with the Detroit Symphony Orchestra regularly, as well as with the Detroit Symphony Orchestra's Civic Orchestra.  DCC has also shared the stage with the Dearborn Honors Chorus, a virtual international children's choir, many local choral organizations, dance troupes, a Ghanaian percussionist, a local rapper and many professional instrumentalists.  Other local collaborations have included performing and recording with the vocal group Men of Grace and Detroit's acclaimed Jill Jack.  Each January, DCC hosts a multicultural choral workshop in collaboration with the Singers of United Lands, open as an honor choir learning experience for all metro Detroit's children.
The DCC Touring Choir has performed by invitation for Noel Night annually, for the Governor of Michigan, the Mayor of Detroit, the Detroit Tigers, Detroit Pistons and Shock professional basketball teams, Jazzin' on Jefferson, organizations such as Save Our Children's Future, Voices for Michigan's Children, The Children's Center, Michigan State University Extension Branch, Michigan Works, the Great Lakes Conference of the Evangelical Covenant Church, the MI Science Center, the Detroit Institute of Arts museum, the Firehouse Project, and was featured in a video produced by the Gleaners Food Bank. The choir is also featured in a Lucie Groene film entitled, "Detroit Is My Home".