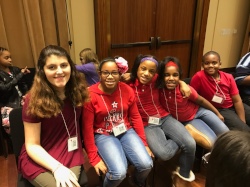 Book the Detroit Children's Choir For Your Next Event
Did you know that the Detroit Children's Choir, in collaboration with the Detroit Symphony Orchestra, is available for your next big event?
Our choir students represent the city of Detroit and the state of Michigan with distinction for their musicality and enthusiasm. They have performed for all kinds of venues from Comerica Park to the Governor of Michigan's Residence, from Belle Isle State Park to the Garden Theater. In addition, we have sent choirs of all sizes, from our forty-voice Civic Choirs to our select group of six singers. No venue is too big or too small for our choir students.
Planning an event later this year? Fill out the form below, and a representative from the Detroit Children's Choir will reach out to you to make it happen.
Need more information, please call our DCC Office at (313)-444-7821.
Book The Choir Form