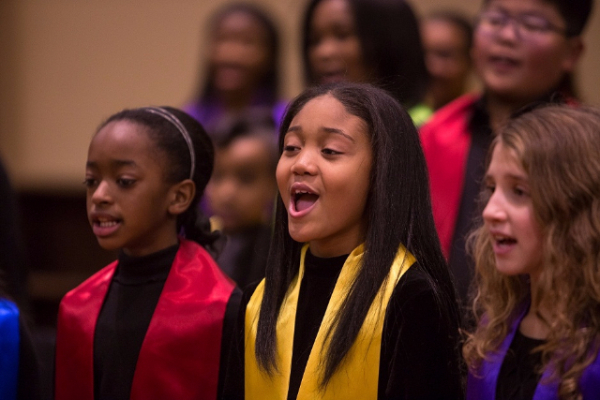 The Detroit Children's Choir offers a variety of programs to meet your specific interest.
The Detroit Children's Choir, in partnership with the DSO, is offering two auditioned children's choir ensembles and one training choir housed at the iconic Orchestra Hall. The Detroit Children's Advanced Choir serves as our touring treble choir, and the Concert Chorale serves as our auditioned mixed choir. We also offer the Midtown Chorale as our non-auditioned ensemble. Students are accepted during open auditions. They will use a Kodály-inspired curriculum, learning sight-reading, theory, and performance skills, with increasingly challenging repertoire in a variety of languages and genres, in three-and four-parts. Members of the Concert Chorale will perform at a variety of local and regional venues, including Orchestra Hall with the Detroit Symphony Orchestra, during the school year.

In-school choir programs bring the power and discipline of quality choral music education into the school as a vehicle to help children develop excellence in musicianship, self-confidence, social awareness and academic skills while setting the stage for continued active involvement in choral singing throughout their lives. Students who love to sing and are committed to learning are invited! Excellence in healthy vocal technique, music literacy through a Kodály-inspired curriculum, and choral part-singing skills all provide the context for learning in these ensembles for the beginner choral student, aged 8-14. Rehearsals are held weekly for one hour, with a culminating performance of DCC's mass choir, annually held in the late spring.